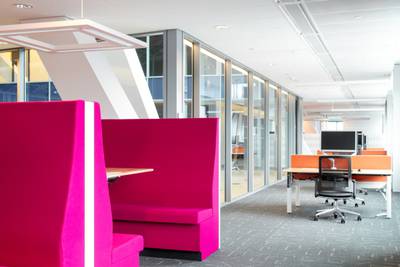 The Ahrend 750 lounge worksite is a luxurious, amply dimensioned worksite. Perfect for privacy and for flexi-workers and members of staff whose work involves a great deal of travel and activity and who need to touch base. This modular system allows configurations, meeting highly specific customer requirements, created at a competitive price. Ergonomics and comfort are the keywords here. The electrically adjustable easy chair complies fully with the relevant standard EN 1335 and the Dutch Practical Guideline NPR 1813, and meets all the demands that might be made on a high-quality working chair.
A lounge worksite is put together by combining a number of different modules. Essential units to start off with are an electrically adjustable easy chair and a height-adjustable table. A combination of fixed easy chairs some of which may be in a corner, and stools at the end of a row or a second electrically adjustable easy chair if appropriate, may be added to complete the assembly.
The chairs all have a high backrest to give the set-up a feeling of intimacy, and are upholstered all round as standard. The configuration functions best when free-standing. This cuts down noise from the surroundings and eliminates the need for partitions round the worksite, thus cutting costs.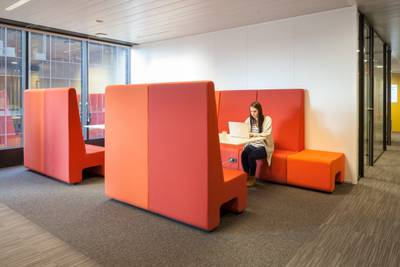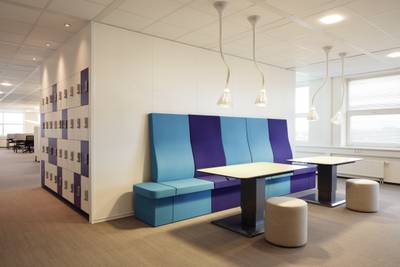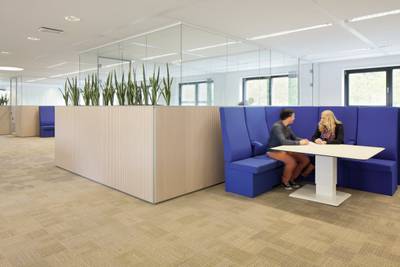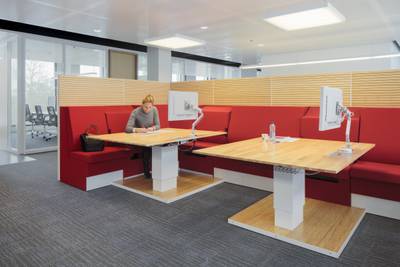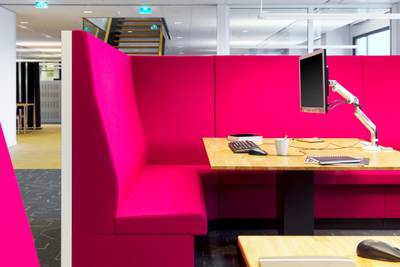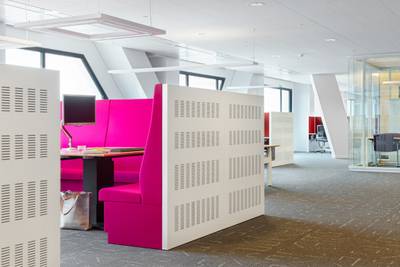 Bas Pruyser
Bas Pruyser was born in 1950. After secondary school he studied product design at the Rietveld Academy. On completing his studies in 1976, he worked part-time for Ahrend as a designer
In 1996 he set up his own studio, Bas Pruyser Design BV; he also works on a freelance basis for the waste management group Bammens and for other clients outside Ahrend's industry. His work for Bammens included the design of waste paper bins, street furniture and parking barriers. In 1992 he was commissioned by Velopa to design the cycle park Rickshaw. For Ahrend, he designed school furniture, ranges of tables and chairs, screens and a bench for the Rijksmuseum in Amsterdam, among other things. Bas Pruyser received the Lundia Prize in 1974 for his furniture designs, and the prize of the municipality of Amsterdam 1975 for his litter bin. He also won the highest Dutch design award, the Kho Liang Ie Prize, in 1982. An exhibition devoted to his work was held in the Stedelijk Museum in Amsterdam in 1983, and in the NMB Bank in Amsterdam in 1984. In 1983, he was a member of the jury for the Amsterdam Fund for the Arts and for the Kho Liang Ie Prize. His Ahrend 22 series of tables and textile designs won a Red Dot Award from the Design Zentrum in Essen, while he received Dutch GIO (good industrial design) awards for the Ahrend School set, Ahrend 320 conference chairs, Ahrend 310, Ahrend 22, S32, Bammens Capitole waste paper bin and Bammens Freevole parking barrier..
BASIC MODEL
Adjustable easy chair
Height adjustable table
Fixed easy chair
Fixed corner chair
Fixed stool at the end of a row
TECHNICAL DETAILS
Back support angle adjustable easy chair 0 - 15 degrees
Table is manually adjustable in one direction over 300 mm
Height configuration 1430 mm
OPTIONS
The modular system makes client specific configurations possible
Fabric group and colour of choice within the Ahrend collection
Accessories, e.g. turnbox or lamp
Need more information?
Where to go next?