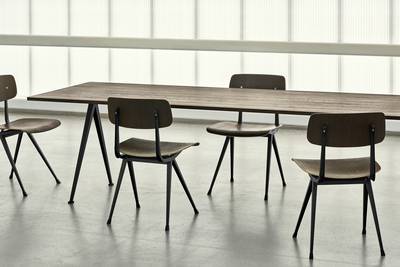 The Result Chair was originally designed by Friso Kramer and Wim Rietveld in the middle of the 20th century, while they worked at Ahrend. Produced predominately for schools in the 1960s and 1970s throughout the Netherlands, the Result Chair has a particularly strong relationship with Dutch residents as it was a daily part of their lives growing up. Combining functional excellence with aesthetic lightness and adaptability, the design is exceptionally sparing in the use of materials, is simple to construct and organic in its shape. They remain as relevant and useful today as the first day they came into being.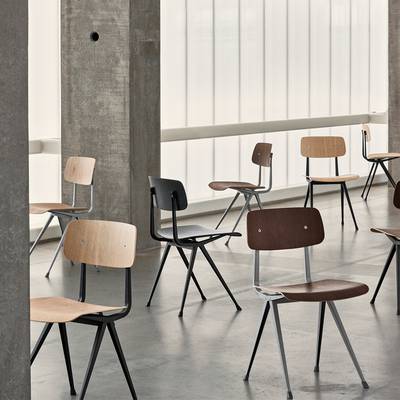 Dutch design icon
Design from 1958, officially relaunched in 2017
From innovative design to timeless design icon
Very usable because of the minimalistic design
Flexible, light and strong design
Innovative use of sheet steel
Easy to move through its light design
Unique because of its steady design
Authentic configurations and finishes
The frame is available in black or beige
The seat / handrail is available in five wood colors
A total of eight different combinations possible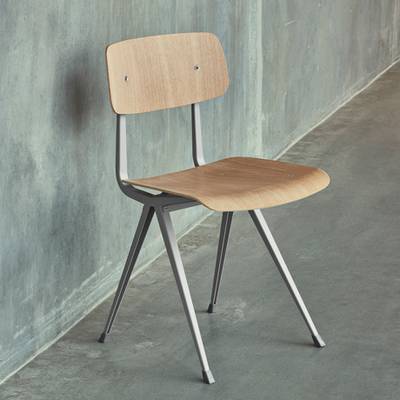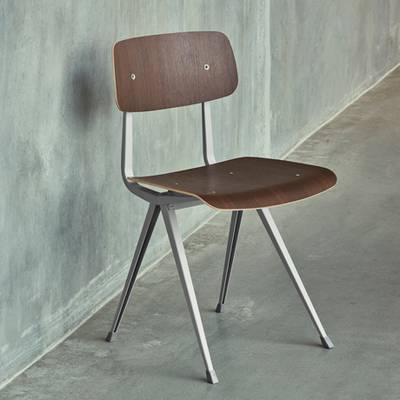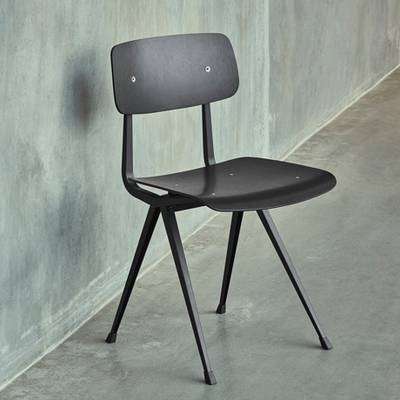 Wim Rietveld & Friso Kramer
In 1958, Wim Rietveld and Friso Kramer started a fruitful collaboration at Ahrend de Cirkel. Together they produced a number of now-iconic designs, including the Result Chair (1958). In 2017, the Result chair were relaunched by HAY and Ahrend.
BASE OPTIONS
Strong, flexible and light four-leg chair
Seat and back in high quality oak
Legs come with sliders
TECHNICAL DETAILS
Height 81 cm
Width 45.5 cm
Depth 48.5 cm
Seat height 46 cm
OPTIONS
Eight different (seat / frame) options possible
Sublime match with the Pyramid collection of HAY and Ahrend
Order online in the Result Chair webshop
Need more information?
Where to go next?