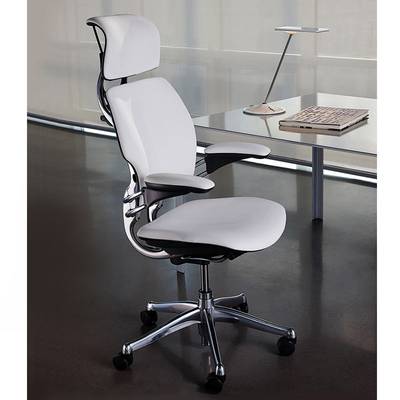 Described by The New York Times as "the gold standard in office seating," the Freedom chair redefines the concept of traditional task chairs. Designer Niels Diffrient aimed to design an office chair that automatically adapts to the user, allowing them to move freely from posture to posture. Diffrient's unique approach removed complexities found in other chairs, such as cumbersome recline levers and back tension dials for a truly ergonomic task chair. As a result, he developed a recline mechanism that perfectly adjusts to the user, definitively reinventing modern task seating to be truly simple, functional and beautiful.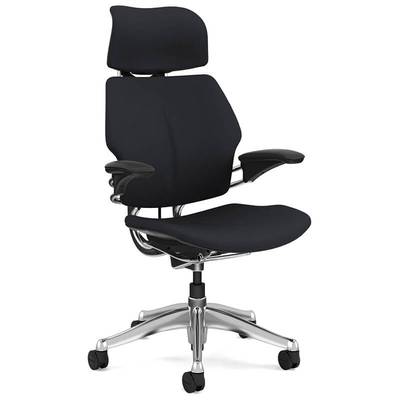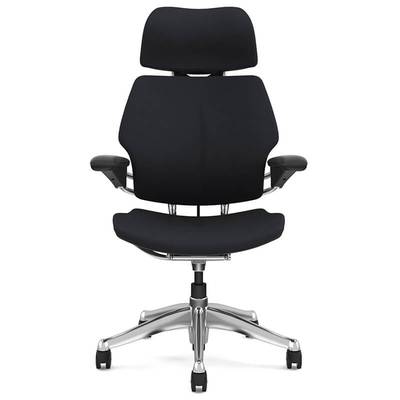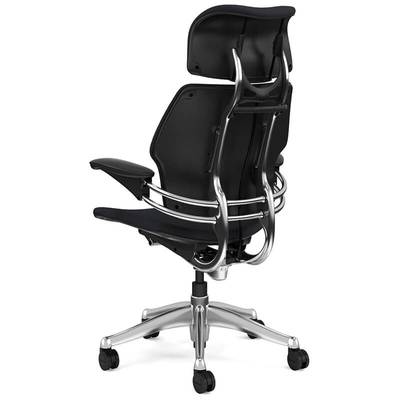 With innovative recline that provides constant support and a pivoting backrest that automatically adjusts to the needs of the spine, the Freedom chair is exceptionally comfortable and promotes movement throughout the day. Its refined and sculpted cushions were designed to mimic the body's natural contours and decrease pressure point loads for premium comfort. Like all Humanscale chairs, the Freedom chair was designed to look and function like new after years of consistent use.
Articulating Headrest
The Freedom chair features a dynamic, articulating headrest to support the head and neck as users recline. It moves with the sitter, so they can change postures without making manual adjustments and stay comfortable in any position.
Self Adjusting Recline
Freedom eliminates the need for traditional recline mechanisms, which can be bulky and weigh up to 15 pounds. Instead, Freedom uses the sitter's body weight and the laws of physics to perfectly and automatically adjust recline support for each individual.
Synchronous Armrests
Freedom's body-friendly armrests move up and down together, staying with the user during recline for continuous comfort and support. Unlike other chair designs, Freedom's armrests are attached to the back of the chair to ensure synchronous use.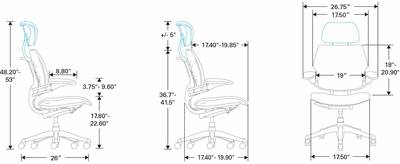 TEXTILES
Wave (Black, Graphite, Sage, Navy)
Soft and supple with a distinctively flexible weave, Wave is a four-way stretch fabric that creates a form-fitting layer on the cushion. Its deep earth tones are inspired by nature's hues.Textile Grade 1
Vellum (Black, Graphite, Ash, Light Gray, Seal, Beech, Mahogany, Moss, Grass, Navy, Periwinkle, Pomegrante)
Developed to withstand the most rigorous use, Vellum is a highly durable textile that features a calming texture. Made from strong materials such as nylon, codura and elastic yarn, it accommodates shifts in the user's body weight throughout the day. Textile Grade 1
Ginkgo (Black, Charcoal, Walnut, Storm, Navy, Wheat, Green, Horizon, Harvest Orange)
A wool textile, Ginkgo is available in vibrant, saturated colors to complement any space. Its intricate weave structure creates a delicate, organic energy, for a robust and uniquely comfortable texture.Textile Grade 2 | Designed by Elizabeth Whelan
Lotus (Black, White, Shale, Hematite, Walnut, Umber, Ochre, Verdant, Navy, Plum, Crocus, Eggplant, Earth Red, Lucky Red)
Ideal for healthcare and hospitality environments, Lotus features water-repellent and easy-to-clean properties. Lotus has strong nylon backing and a polyurethane texture, bolstering its resilience and endurance.Textile Grade 1 | Designed by Elizabeth Whelan
Sensuede (Ebony, Pewter, Olive, Pear, Arbor, Persian)
Sensuede's faux-suede finish features breathable wrinkle-resistant recycled ultra-fine microfibers that are extra strong for enhanced robustness. Its soft texture provides ultimate comfort.Textile Grade 2 | Designed by Elizabeth Whelan
Bizon (Black, Miso, Terra)
Exceptionally soft to the touch, Bizon is a thick, rich grained leather with excellent light fastness. It offers a plain, pigmented finish that has excellent stain protection, making it ideal for any user or application.Leather Grade 1
Cervo Leather (Sasso Nero, Montefalcone, Aveto)
Featuring a luxurious suppleness, Cervo is our thickest leather available. Its soft, textured grain provides a rich quality to the leather's surface.Leather Grade 3
Corde 4 (Dark Brown, Black, Graphite, Navy, Pumpkin, Parma Red, Medium Grey, Azure, Thalo)
Designed with a four-way stretch, Corde 4 provides sitters with ultimate comfort as they adjust positions. Its intricate weave structure, dimensional surface and wide array of neutral and vibrant shades are visually appealing and engaging to the touch.Textile Grade 1 | Designed by Elizabeth Whelan
Niels Diffrient
Niels Diffrient's designs are grounded in the philosophy that form follows function. His work has spanned generations, consistently looking past trends to reinvent the tools we use for daily living.
With an academic foundation in design and architecture and a degree from Cranbrook Academy, Diffrient channels his knowledge of engineering, architecture, and human factors into the creation of highly functional and aesthetically timeless designs.
From his early work with the studios of Eero Saarinen, Marco Zanuso, and Henry Dreyfuss to his current work with Humanscale, Diffrient's visionary talent has been widely recognized. Included among his many honors are the 2002 National Design Award from the Smithsonian's Cooper-Hewitt, National Design Museum, and the 1999 Chrysler Design Award. In recent years, Diffrient has focused his energies on designs for the office environment, particularly seating--a category in which he has pioneered numerous breakthroughs, from pneumatic cylinders for seat height adjustment to weight-activated automatic recline.
TECHNICAL DETAILS
Chair Width: 27.25"
Base Width: 25"
Height: 20"
Weight: 38 lbs with arms / 34 lbs without arms
Need more information?
Where to go next?