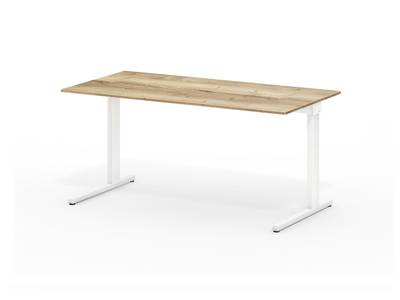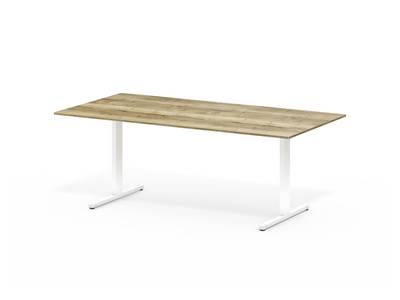 A decathlete among desk systems
Horizont offers several options for cable management, all of which are concealed under the desktops to ensure that no cables interfere with the important tasks at hand. With its slightly slimmer profile, Horizont provides a new aesthetic option for managing your office tasks and utilising your space.
This desk system gets top billing in our product range. It is designed for all situations and environments – a decathlete among desks. It is now our best selling desk – a universal system popular with architects and designers for its ability to match and enhance their creativeness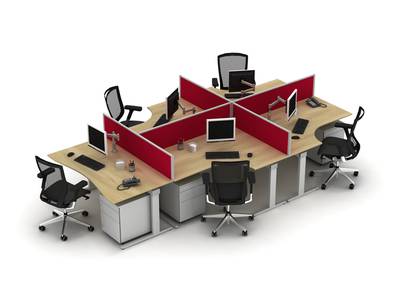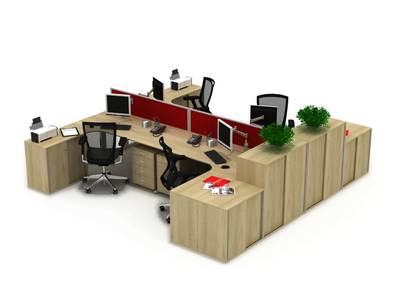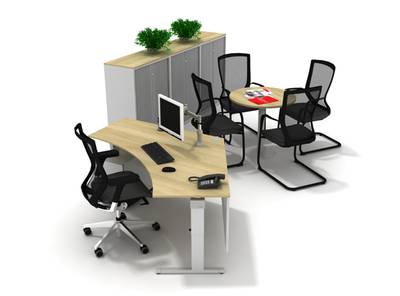 The Horizont table system is designed for contemporary offices. The basic table is the building block of this system, which is used to create functional configurations that fulfil the most demanding ergonomic requirements placed on office furnishings.
The system was designed by the architects ADR. The Horizont system comprises a metal base supporting a wood-based desktop. The metal base is made from steel profiles and aluminium castings fastened together. The metal base is protected with a high-quality powder coating.
Simplicity with an emphasis on function. This was the principle applied to this table design. The result is the elegance and timelessness that are characteristic for TECHO. The conference version of the Horizont is based on the standard desk and differs in the size and shape of the desktop and the centred base. Using a combination of both versions gives a unified look to your interiors.
The metal base is constructed from steel profiles and aluminium castings and then given a high-quality powder paint finish. The desktop is either a wood fibre board with HPL, which we call EKOTECH, or laminated chipboard with ABS edges applied using laser technology.
Standard materials and colours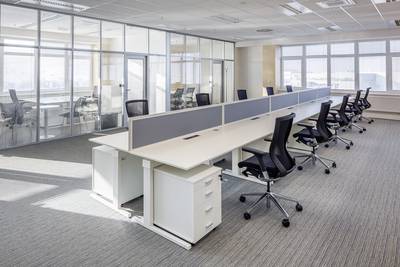 Petr Kolář, Aleš Lapka
Since it was founded in 1996 by a pair of authorized architects ČKA, Aleš Lapka and Petr Kolář, besides the design of furniture, it focuses mainly on projects of reconstruction, interior design and exhibition. One year after its founding, ADR won its first Expoimage Award, awarded by the Design Center of the Czech Republic, and it was definitely not its last success. In 2014, for example, she won the International Hotel Awards in two categories - Best Hotel Maldives and Resort Hotel Maldives. In addition to the TECHO showrooms, the ADR studio is also the designer of other TECHO products.
Technical details
The EKOTECH wood fibre board with lacquered edges and optional chamfer optically complements the slim appearance of the Arkus desk system

Laminated desktop with 2 mm ABS edge

Levelling adjustment: 735 - 750 mm

The metal base is finished with a high-quality powder paint coating

Colours finish
Desktop colours:
We offer a wide range of decors from suppliers Egger, Pfleiderer and Kronospan.
Base colours:
Options
Available in various shapes and sizes (see technical manual in download section)

A conference table version is also available

A wide range of accessories available – screens incl. Holders, vertical and horizontal cable management, CPU holders, integral power supply, leg cover

Combining with TECHO pedestals and storage products to create a unified workstation

Need more information?
Where to go next?