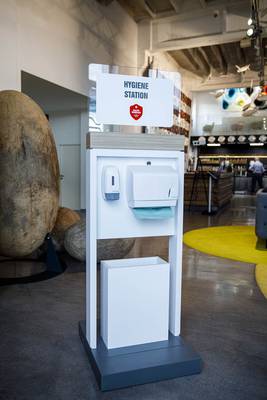 TECHO has always strived to create healthy workplaces, and this expertise is now focussed on helping companies return to work in Covid-safe offices.
We offer a whole range of immediate solutions for existing workplaces, including protective acrylic screen extensions, acrylic workplace dividers and hand sanitation points. We can also advise on a range of other effective measures. We are ready to help clients achieve long-term solutions with new lay-outs and methods of office operation. 
From the various reports and studies, it is clear that hand sanitation plays an important role in prevention of transmission of viruses. Hygiene stations are an elegant solution for private and commercial interiors. They can be used to ensure people in reception areas, showrooms, offices and other common areas have clean hands. The stand can hold hand sanitiser dispensers along with paper towel dispensers and a bin.
As standard the stand is supplied without dispensers/attachments. 
Standard materials and colours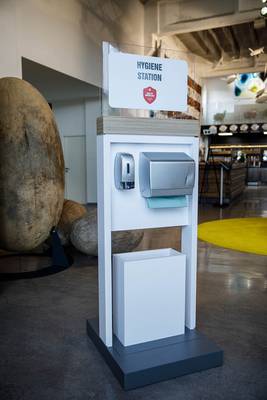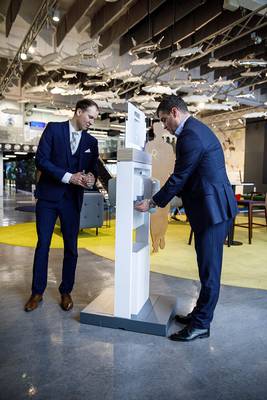 Technical description
Material – laminated chipboard, plexiglass
Standard finish – white with grey base. At the top is a plexiglass screen that a personalised sticker can be applied to
Main advantage
Value for money
Suitable for any interior
It can be supplied without dispensers and mountings, which can be sourced separately
Can be used from both sides
Does not require power connection
Easy to move
Options
Mobile "hygiene stations" can be fitted with an automatic hand sanitiser dispenser, and dispensers for disposable gloves and hand towels. The stand includes an easy to remove bin to ensure safe disposal of used paper towels/gloves etc.
This station is ideal for reception zones, and anywhere in open-plan offices.
Need more information?
Where to go next?