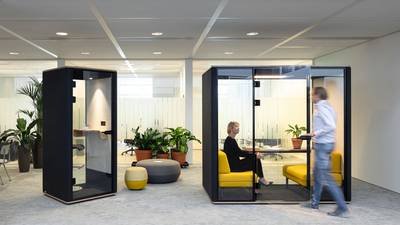 The Silence collection represents the latest generation of space-in-space solutions. It provides, as the name suggests, silence, a place for focussed work and privacy in the workplace environment. Users are secluded, and yet still part of the office life. Here you can make undisturbed phone calls, conference calls, videoconferences as well as just benefit from the quiet environment provided for concentration on the task in hand. 

The Silence range returns peace and quiet to the workplace. For enhanced creativity and concentration. For relaxation. 

It is time to call for silence
The workplace environment is continually changing. Thanks to open-plan offices, space flexibility and technical progress, we are now more connected than ever. On the other hand, we are also subject to greater distractions, stress and continually surrounded by noise.
Greater than ever emphasis in the office environment is placed on the comfort and wellbeing of users. Quietness is one of the key factors. When isolated from disturbing noise, employees are more content, healthy, creative and proactive.
Offices should enable people to perform their work to the best of their ability. Our mission is simple, offices should be made to suit people, and not the other way round.

Flexible working environment
The current trend is for flexible workplace environments, which can at any time be changed to suit the given requirements without fundamental intervention. The Silence collection is an excellent solution for such space. The booths are fitted with castors and can easily be moved to change the office environment in minutes. The glass walls maintain contact with the exterior environment. Flexibility and privacy are ensured.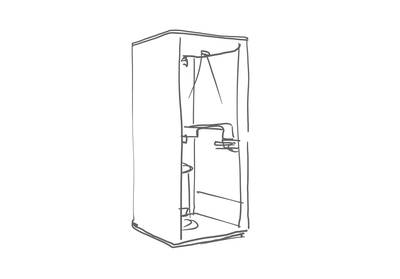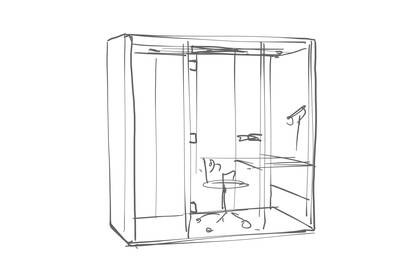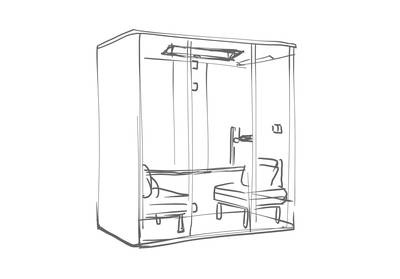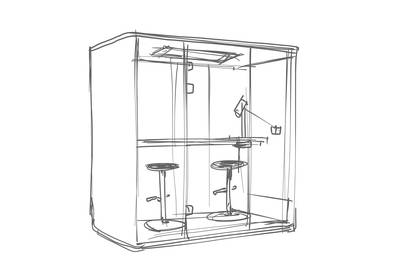 Firms, and the people in them, are changing their work habits, their structure, and the organisation of work teams, which in turn has an impact on the specific layout of offices. The emphasis is now on pleasant spaces for creativity and concentration, which brings flexibility and independence. 

Personal atmosphere
When you enter a Silence Call or Chat booth you are enveloped in peace and quiet, and a pleasant climate without any feeling of being constricted. The Silence collection was designed with the intention of achieving a perfect balance between acoustic characteristics and ventilation quality. Quiet ventilation creates a gentle draught of air. The ventilation intensity can be adjusted to individual requirements/preferences. In addition to this, the Silence range has among the best sound insulation performance on the market.
Silence is not the absence of sound, but the presence of space.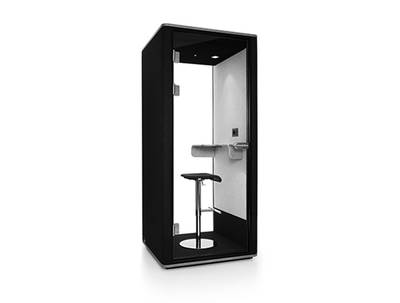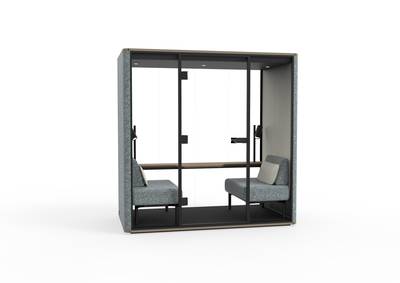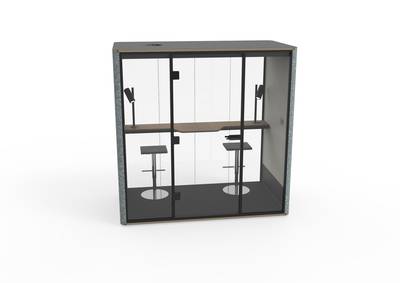 Your own choice
The Silence range comes in two versions: Call and Chat. Select the option that suits your work needs and interior. Whichever version you select, you can be sure it will boost privacy, concentration, creativity and flexibility.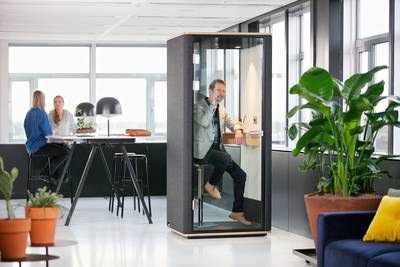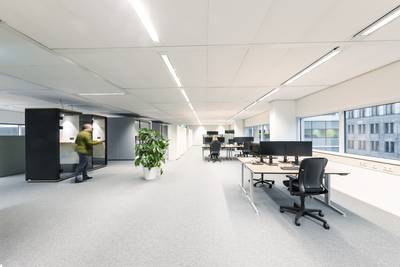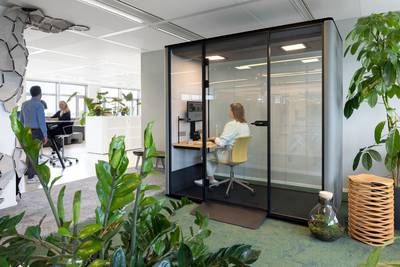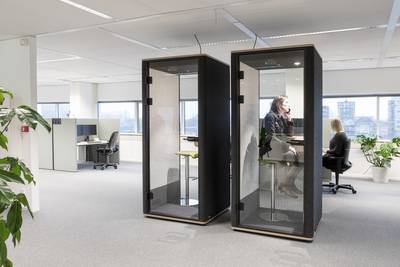 A sustainable solution
The Ahrend Silence range has been designed to change with the times. Today you might want a separate space for videoconferences, whilst next year you might have different requirements for your workplace environment. This collection has been designed to allow each part of it to be upgraded or replaced. Thanks to the clever detachable connectors, the modules and materials can easily be separated and reused. In addition, the materials used are of the highest quality and are exceptionally durable. They will last for years.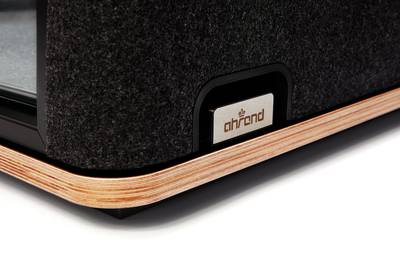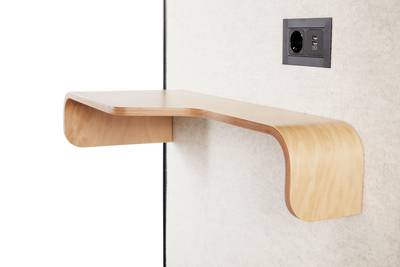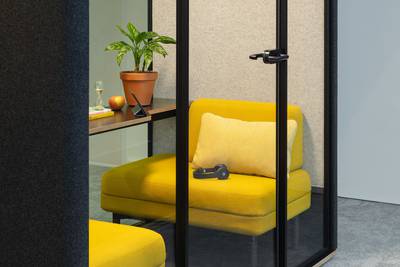 Silence in every detail 
Go for class-A silence. The Silence range is one of the best acoustically insulated products on the market. The inner walls of Silence are clad with 12 mm thick wool felt, which absorbs internal sounds. The felt has an absorption time of 0.2 seconds. The exterior parts of the Silence range are also upholstered. The booths therefore have acoustic benefits both inside and outside. Select a surface finish that suits you: chose an upholstery colour that fits in with the rest of your interior.
Basten Leijh
Basten Leijh was born in 1975. After following the direction 'Man and Mobility' at the Design Academy Eindhoven his graduation project, a city bike with a detachable handlebar that function as a U-shaped lock, was adopted by world's largest bicycle manufacturer Giant in 2002.
After several years of experience as a product designer and interior designer, he started his own design studio in 2005, Bleijh Concept & Design. The studio has grown into a multidisciplinary design agency and is well known for its innovative products and concepts. Including office chairs, adjustable desks, bicycles, packaging, waste disposal products and even nautical concepts came from his studio. Basten Leijh's work is conceptual, but has also a highly functional character and is exhibited worldwide. He believes in total design solutions where the context and environment are as important as the product itself: "the product in its full experience."Basten Leijh stands for integration of design in an early stage of the strategy of a company. This is why he often sits at the table at an early stage in the development of future plans or new initiatives. His motto: "Authentic, functional products that give you a smile... products that makes the world happy".
Basic information
Sensor automatically activates light and ventilation
Ergonomically designed table for mobile device use: 100% Plug & Play
Standard electrification: 1 power outlet and 2 USB chargers
Integrated casters allow easy movement Silent Call
Internal wall finish: 2 colors of soft and sound-absorbing felt
Options
The outer fabric is available in Kvadrat Divina, Divina MD and Divina Melange (more than 120 colours) or in Gabriel Soul Melange
Silence Call
Add an optional, height-adjustable swivel stool
Table top available in three different finishes: black, white or oak
Silence Chat
Choice of different interiors
Available with wider doors for wheelchairs
Table top available in black, white or oak
Pastille W821 P2 table lamp, available in black and white
Types
Call - make your call in silence
Chat - a confidential meeting for two or a conference call
Meet - meeting behind closed doors - we prepare
Need more information?
Where to go next?