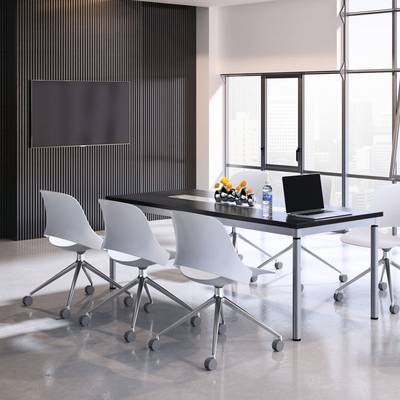 The Red Dot-Award winning Trea teams a timeless, clean aesthetic with high-performance function. Created in collaboration with visionary designer Todd Bracher, Trea offers intuitive comfort by mimicking the instinctive recline of the human body and embracing the sitter in a supportive shell.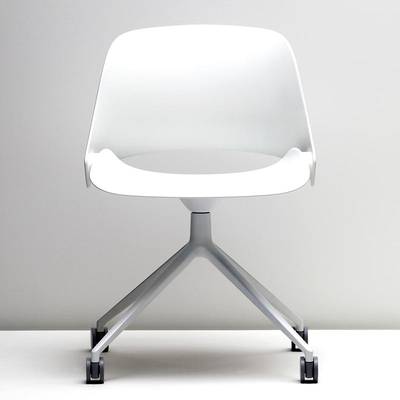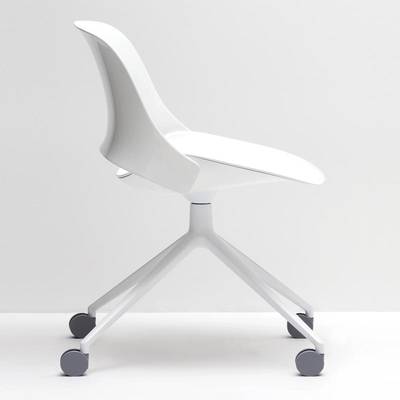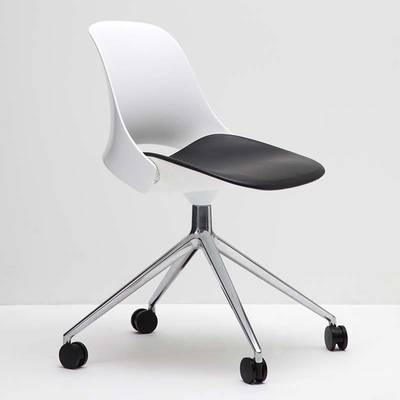 Trea can be adapted for both office and home interiors. The chair's four-star, cantilever or four-leg bases are interchangeable, so Trea can be customized for different environments and uses while maintaining visual consistency throughout a space.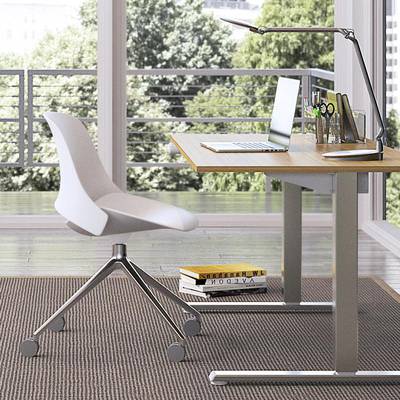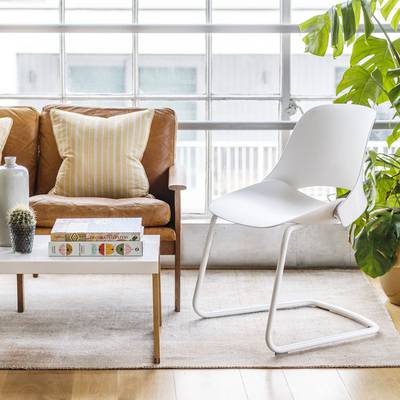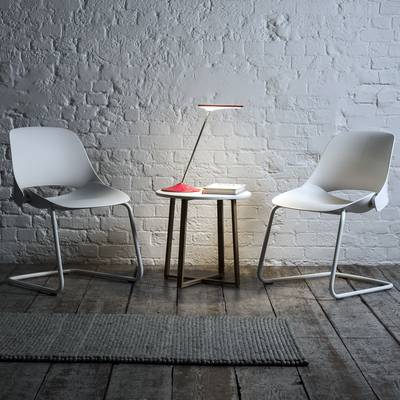 Innovation
Trea is engineered with a unique solid state recline mechanism that offers the sitter 12 degrees of movement. The chair's overall modular design makes it easy to upgrade and maintain each of its components, minimizing the environmental impact.
Ergonomic Comfort
Trea's waterfall-edge seat reduces impact to the back of the knees. A contoured backrest gently pivots to follow the natural point of hip rotation, cradling the body's curves for lumbar support. The sitter can move freely and comfortably, without adjusting any mechanisms or dials.
Beauty
Inspired by simple, natural forms, the Trea chair features a sophisticated design that embodies versatility. Functionally flawless and aesthetically pure, Trea offers the most comfort with the least amount of effort, providing stylish support in any space.
Todd Bracher
One of the great young designers of the moment, native New Yorker Todd Bracher has earned worldwide attention for his furniture and product designs.
Bracher teamed up with Humanscale to create the striking Trea multipurpose chair, which mimics the instinctive recline of the human body without resorting to manual controls and the innovative Vessel light.
A Pratt Institute graduate, Bracher earned his MFA in interior and furniture design at the Danmarks Designskole in Copenhagen after winning a Fulbright design fellowship. He was named 2008 New Designer of the Year at New York's International Contemporary Furniture Fair and has been twice nominated for Bolig's International Designer of the Year Award. He has global experience, having headed up Tom Dixon's Design Studio in the UK, acted as a Professor of Design at the l'ESAD in France, and worked as Creative Director of luxury Scandinavian brand Georg Jensen.
In 2007 Bracher returned to New York after spending a decade overseas and founded Todd Bracher Studio in Brooklyn.
TECHNICAL DETAILS
Chair Width: 22"
Base Size: N/A
Seat Height Range: 18.3"
Recline Range: 12° recline
Chair Weight: Four Leg - 20 lbs / Four Star - 20.5 lbs / Cantilever - 21.75 lbs
Not stackable
OPTIONS
Shell: White or Gray
Base Finishes: White Powder, Polished Aluminum (four-star base only)
Seat: Available with or without seat pad
Need more information?
Where to go next?