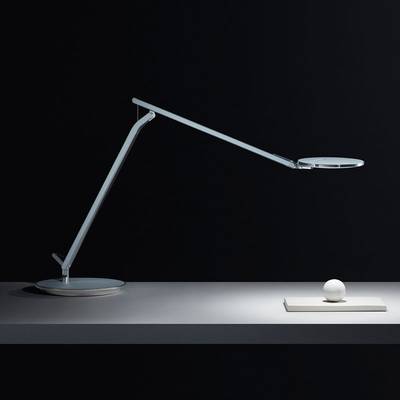 Humanscale's Infinity LED task light embodies performance in a sleek, timeless design. Equipped with constant torque 'Forever Hinges' for strength and stability in any position, Infinity's large-array, multi-chip LED provides long-lasting, high-quality light — casting just one single shadow. In line with the Humanscale philosophy of doing more with less, Infinity is designed from a functional perspective to create a task light that is elegant, enduring and globally appealing.
The Infinity light's 'Forever Hinges' — a combination of torque inserts and springs that ensure a balanced, easy-to-move arm — allow for seamless adjustment, so the user can position the light to suit their personal ergonomic preference. Maintaining a minimalist aesthetic, cables are hidden from view and run internally throughout the length of the precision machined arm.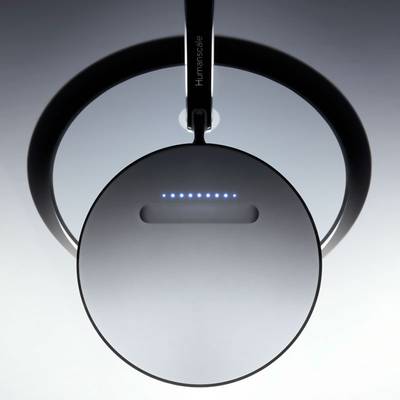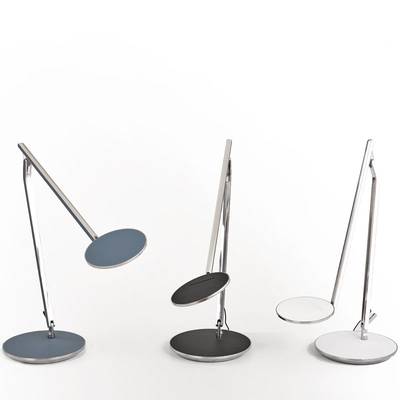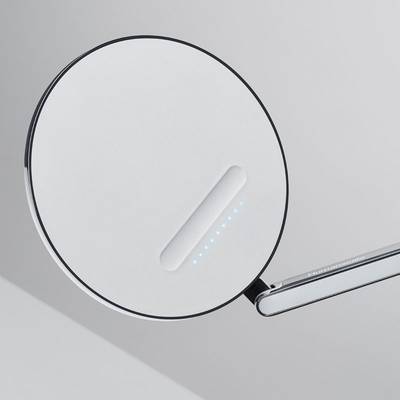 Superior Illumination
Infinity's powerful 1500 lux illumination provides industry-leading output that is energy-efficient, casting just one single shadow on the desk surface.
Ultimate Adaptability
Infinity's impressive 35" arm reach and full 180 degree arm and head rotation allow for effortless, one-touch positioning. Available with customizable color finishes, the light can be easily tailored to any design aesthetic or work environment.
Advanced User Interface
Designed to reduce visual clutter, illuminated indicator lights appear when the user reaches for the light. After selecting preferred brightness out of nine available levels, they fade away.
Fluid Movement
'Forever Hinges' allow Infinity to maintain fluid movement and effortless positioning, unlike any other task light in the industry.
Energy Efficient
With the highest efficiency LED chip on the market, Infinity uses just 8 watts to deliver best-in-class lighting performance.
Sustainable Durability
Each Infinity light is made of polished aluminum and highly recycled and recyclable content. We use polyethylene (PE) film on the head and base instead of paint. It also lasts 50,000 hours, never needs to be adjusted, and has an industry-leading 10-year warranty.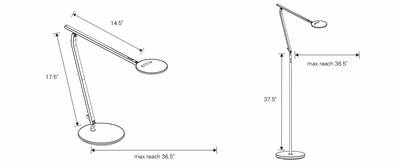 Humanscale Design Studio
Located in the New York City headquarters, Humanscale Design Studio is a powerhouse of designers, engineers and prototypists from around the world. The team also regularly collaborates on projects with acclaimed industry figures. Abiding by the philosophy that good design achieves more with less, the team specializes in solving functional problems with simple, efficient designs. A holistic approach is taken to ergonomics, with the user experience and interaction with the product front of mind.
The design team's award-winning innovations are backed by their thorough research into workplace trends and by working closely with Humanscale's inhouse team of ergonomics consultants.
TECHNICAL DETAILS
1500 lux (150 foot-candle) illumination
Power consumption: 9 watts
Lifespan: Up to 50,000 hours
3000 K (warm white) light, 90 CRI
Configurable to all spaces with an option of desktop base, clamp, wall mount, slatwall mount or floor stand
COLOR OPTIONS
Ash Black
Linen White
Slate Blue

Customizable Finish Options
Need more information?
Where to go next?