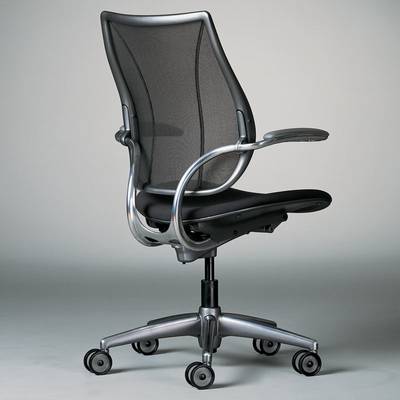 The Liberty Task chair is an intelligent mesh task chair engineered to provide automatic lumbar support for every user, as well offering simplicity and complete ease of use. Liberty was designed to offer a unique, minimal aesthetic and to provide custom comfort for every person who sits in it. Like Humanscale's Diffrient Smart and Diffrient World chairs, Liberty uses Humanscale's revolutionary Form-Sensing Mesh Technology and mechanism-free recline for perfect support and unprecedented comfort.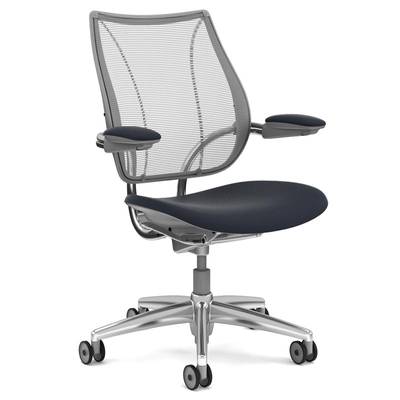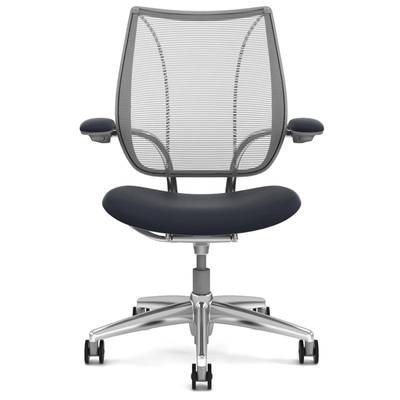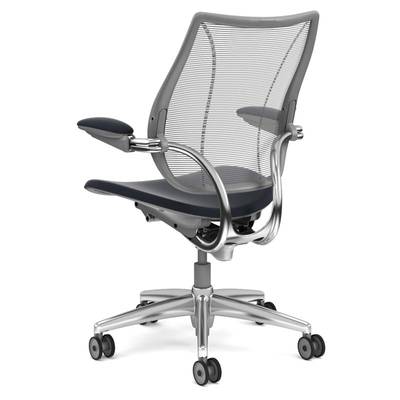 With a minimal aesthetic that complements any space, the Liberty chair is the ideal seating solution for the modern work environment. With advanced features, including automatic, weight-sensitive recline, arm rests that are attached to the back of the chair for constant support and an innovative tri-panel mesh backrest, Liberty combines performance, simplicity and beauty. With fewer parts than traditional task chairs, Liberty is a timeless and environmentally friendly design.
Effortless Recline
Liberty's intelligent mechanism-free recline uses the laws of physics and the sitter's weight to automatically provide the perfect amount of support through the full range of recline. Without manual controls to adjust, the user can change postures effortlessly throughout the day.
Custom Fit
Liberty's mesh back is formed by combining three panels of non-stretch mesh material in the same way a tailor combines multiple pieces of fabric to create a shirt. Its contours are made to custom fit and support each individual sitter throughout the day.
Encourages Movement
Liberty was engineered to automatically adjust to whoever sits in it, instantly accommodating each user regardless of size and weight. Because it has no manual adjustments and features Humanscale's weight-sensitive recline, the user can move easily and without restrictions.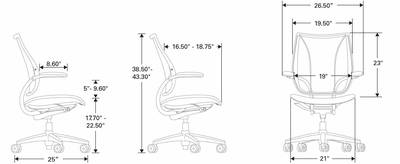 TEXTILIES
Monofilament Stripe (Black, Carbon, Platinum, Green, Atlantic, Amber)
Made specifically for our tri-panel, mesh-backed chairs, Monofilament Stripe has an elastic composition that achieves strength through its distinctive weave structure to provide unmatched support. Its classic stripe pattern is available in various striking colors.Mesh | Designed by Elizabeth Whelan
Silver Check (Alloy, Topaz)
Woven with monofilament and silver-plated yarns, Silver Check has a subtle metallic shimmer that creates a sophisticated finish to any chair. This non-stretch mesh is flexible and strong, providing ergonomic support to every user.Mesh | Designed by Elizabeth Whelan | Part of the Cooper-Hewitt National Design Museum Permanent Collection
Pinstripe (Black, Cadmium, Citron, Crimson, Cyan, Graphite, Silver, White)
Inspired by the Brooklyn Bridge, Pinstripe explores the idea of "suspension." Composed of two Monofilament stretch yarns, Pinstripe helps the chair's tri-panel backrest cradle the user's body and features a floating line of color for a distinctive aesthetic.Mesh | Designed by Elizabeth Whelan | Part of the Cooper-Hewitt National Design Museum Permanent Collection
Dash (Platinum, Zinc)
Named for the way color dashes across the surface of this textile, Dash was designed to resemble embroidery floss. It maintains a strong, responsive and lightweight composition to accommodate the user's every move.Mesh | Designed by Elizabeth Whelan
Catena (Black, Poopy Seed, Caraway, Bayberry, Cornflower)
Catena features a pure, clean weave—free of any additional patterns or motifs—in colors inspired by the rich hues of spices, which allow the chair to seamlessly integrate into its setting. It's simple aesthetic makes it a classic design choice for modern and contemporary environments.Mesh | Designed by Elizabeth Whelan
Wave (Black, Graphite, Sage, Navy)
Soft and supple with a distinctively flexible weave, Wave is a four-way stretch fabric that creates a form-fitting layer on the cushion. Its deep earth tones are inspired by nature's hues.Textile Grade 1
Vellum (Black, Graphite, Ash, Light Gray, Seal, Beech, Mahogany, Moss, Grass, Navy, Periwinkle, Pomegrante)
Developed to withstand the most rigorous use, Vellum is a highly durable textile that features a calming texture. Made from strong materials such as nylon, codura and elastic yarn, it accommodates shifts in the user's body weight throughout the day. Textile Grade 1
Ginkgo (Black, Charcoal, Walnut, Storm, Navy, Wheat, Green, Horizon, Harvest Orange)
A wool textile, Ginkgo is available in vibrant, saturated colors to complement any space. Its intricate weave structure creates a delicate, organic energy, for a robust and uniquely comfortable texture.Textile Grade 2 | Designed by Elizabeth Whelan
Lotus (Black, White, Shale, Hematite, Walnut, Umber, Ochre, Verdant, Navy, Plum, Crocus, Eggplant, Earth Red, Lucky Red)
Ideal for healthcare and hospitality environments, Lotus features water-repellent and easy-to-clean properties. Lotus has strong nylon backing and a polyurethane texture, bolstering its resilience and endurance.Textile Grade 1 | Designed by Elizabeth Whelan
Sensuede (Ebony, Pewter, Olive, Pear, Arbor, Persian)
Sensuede's faux-suede finish features breathable wrinkle-resistant recycled ultra-fine microfibers that are extra strong for enhanced robustness. Its soft texture provides ultimate comfort.Textile Grade 2 | Designed by Elizabeth Whelan
Bizon (Black, Miso, Terra)
Exceptionally soft to the touch, Bizon is a thick, rich grained leather with excellent light fastness. It offers a plain, pigmented finish that has excellent stain protection, making it ideal for any user or application.Leather Grade 1
Cervo Leather (Sasso Nero, Montefalcone, Aveto)
Featuring a luxurious suppleness, Cervo is our thickest leather available. Its soft, textured grain provides a rich quality to the leather's surface.Leather Grade 3
Corde 4 (Dark Brown, Black, Graphite, Navy, Pumpkin, Parma Red, Medium Grey, Azure, Thalo)
Designed with a four-way stretch, Corde 4 provides sitters with ultimate comfort as they adjust positions. Its intricate weave structure, dimensional surface and wide array of neutral and vibrant shades are visually appealing and engaging to the touch.Textile Grade 1 | Designed by Elizabeth Whelan
Niels Diffrient
Niels Diffrient's designs are grounded in the philosophy that form follows function. His work has spanned generations, consistently looking past trends to reinvent the tools we use for daily living.
With an academic foundation in design and architecture and a degree from Cranbrook Academy, Diffrient channels his knowledge of engineering, architecture, and human factors into the creation of highly functional and aesthetically timeless designs.
From his early work with the studios of Eero Saarinen, Marco Zanuso, and Henry Dreyfuss to his current work with Humanscale, Diffrient's visionary talent has been widely recognized. Included among his many honors are the 2002 National Design Award from the Smithsonian's Cooper-Hewitt, National Design Museum, and the 1999 Chrysler Design Award. In recent years, Diffrient has focused his energies on designs for the office environment, particularly seating--a category in which he has pioneered numerous breakthroughs, from pneumatic cylinders for seat height adjustment to weight-activated automatic recline.
TECHNICAL DETAILS
Chair Width 26.5" Arms / 21" Armless
Base Size 25"
Seat Height Range 16.5" – 34.2"
Recline Range 18° recline + 8° backrest tilt
Chair Weight 34 lbs arms / 30 lbs armless
Stackable: No
Need more information?
Where to go next?