You have already furnished your office with a high-quality desk and chairs, but there is a lack of space for filing important documents? TECHO has the answer for you – wooden cabinets. We supply them in the same colour/décor finish as the office desks and conference tables. You can therefore be sure they will suit the rest of your office.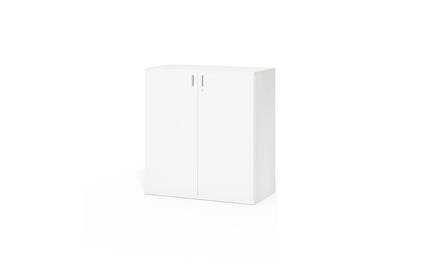 During the design process we devoted special attention to the doors to ensure maximum access to the storage space. The first option with sliding door is ideal particularly for small spaces. The edges of the doors are fitted with a plastic dust shield that prevents dust getting into the cabinet, and it also dampens noise when opening and closing. The second option, a cabinet with wing doors, requires more surrounding space, but the doors open to an angle of 110°, thanks to which it is very easy to access the storage space. Another option is a tambour door, which allows maximum use of the of the cabinet storage space. Open cabinets (without doors) are also available in all height versions, which increase variability when creating storage walls. The wood series is linked to the Element modular range of metal storage units and also to the metal cabinet.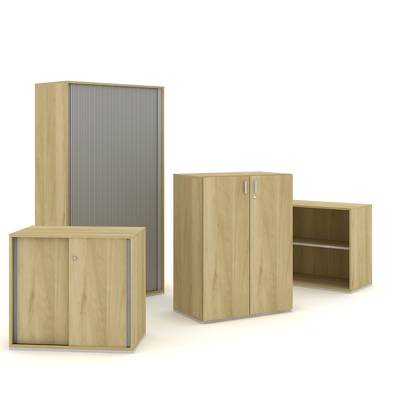 Standard materials and colours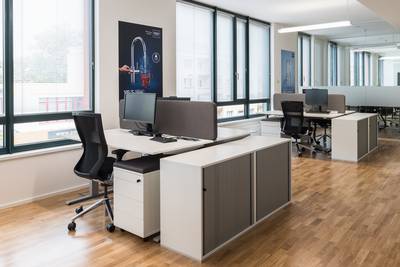 TECHNICAL DETAILS
Material: MFC, laminated chipboard
Thickness: 8mm (the back) and 18 mm (the rest of the cabinet)

Edge 1mm (carcass) and 2mm (door)

Cabinet dimensions:
Height options: 735 mm / 1063 mm / 1780 mm

Width: 800 mm / 1000 mm / 1200 mm

Height of metal plinth: 18 mm

Cabinet depth: 450 mm

It is possible to fit MFC shelves with AL profiles with a load capacity of 30 kg
Cabinet with the option of levelling from the bottom of the cabinet
All cabinets are fitted as standard with a lock.
COLOURS FINISH
Carcass and doors:
We offer a wide range of decors from suppliers Egger, Pfleiderer and Kronospan.

Pull-out elements, frames, plinth:
Black

Gunmetal

White

Anodised natural

Tambour:
OPTIONS
Versions available with sliding and wing, and tambour doors, as well as open cabinets

Various option (see technical manual in the download section)

A wide range of internal fittings are available, such as fixed shelves, frames, pull-out shelves, pull-out frames and wardrobe shelves

When placing

Need more information?
Where to go next?